Enthusiasm in our daily work lightens effort and turns even labor into pleasant tasks."
- James Baldwin
Forty minutes removed from the hustle and bustle of Ecuador's most populous city, Guayaquil, resides the beautiful community of Chongón. Nestled beneath trees bearing fresh mangos and housing native iguanas, you will find the community that Young Living founder, D. Gary Young fell in love with 10 years ago.
Gary used to drive the dirt road deep into Chongón to reach his farm and every day on his route he noticed approximately 40 children of all ages convening in a small brick building. After more thorough observation, he realized this single-room building was the community school. Immediately Gary recognized a need and set out to build what stands tall today as the Young Living Academy.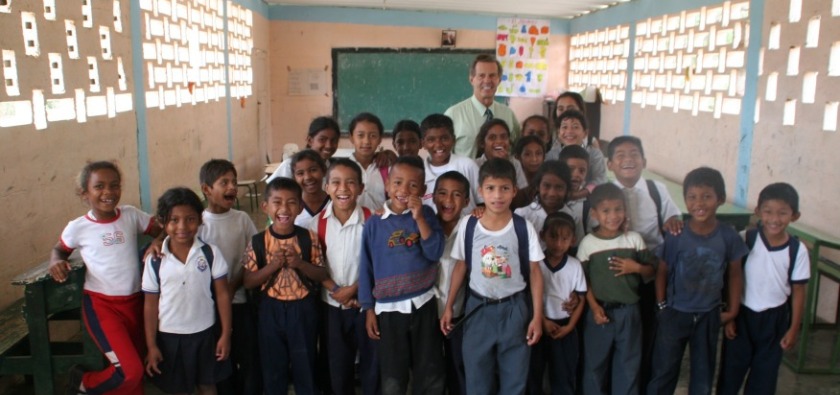 In the spirit of Gary's love for recognizing others' needs and empowering individuals to defy limitations, the Young Living Foundation works closely with the Academy staff to understand and address the needs of our students. A child's success comes from nurturing an environment where success can flourish both in and outside of the classroom. The unfortunate reality for many students is their family's struggle to make ends meet and provide the resources necessary for their children to succeed: a house to go home to with warm meals, a cozy bed to sleep in, and a space to study.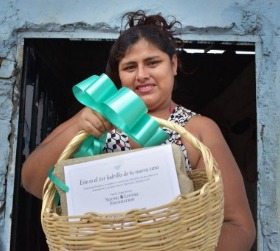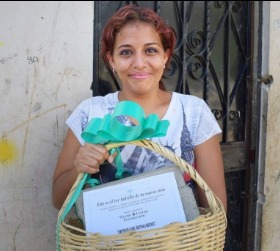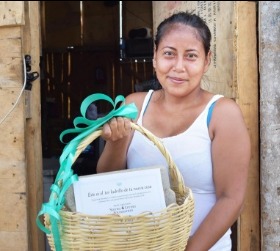 ---
The Almeida-Suárez family
The Almeida-Suárez family matriarch is a single mother of three wonderful children. Her two daughters, ages 9 and 10, currently attend the Academy while she stays home to raise her four-year-old son.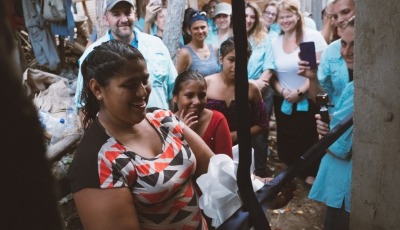 They lived together on family-owned land, separated in different homes carefully and resourcefully lining the top of a steep hill. The girls lived in their grandparent's home while their mother and brother stayed in a small room they rent from their uncle next door. Mrs. Suárez's parents gifted her a portion of their land for her new home and today the family of four resides under one roof, together.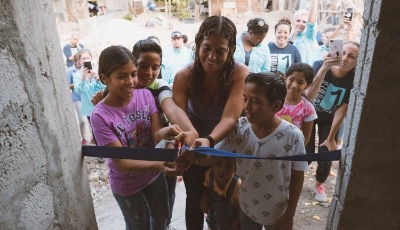 THE REYES-Gabino Family
The Reyes-Gabino family of five was not just sharing a room but sharing one bed in their grandparent's home in which 16 other people live. Mrs. Gabino works hard to support her children despite the difficult circumstance of being a single mother. Today, a home to call her own is one less thing for her to worry about.
THE Salazar-Romero Family
After being asked to leave the room they borrowed from a friend of the family, the Salazar-Romero family was fortunate to have inherited some land on which they were able to build a temporary house of recycled boards, bed sheets, and tin.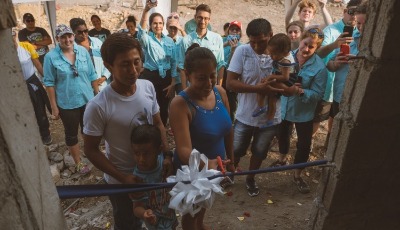 The family hoped to build a sturdier home, but with their oldest son in and out of the doctor's office due to Neurofibromatosis and the family's father recently laid off, money for building has been hard to come by. Thanks to the help of our members, this family of five now has a safe place to call home.
---
Members of each family worked side-by-side with Young Living members to build their homes, laughing and smiling along the way. The aches and pains of manual labor were forgotten amidst the happiness of building hope with each home. On the final day of construction, the families left their building sites to get ready for the ribbon cutting ceremonies, giving members the perfect opportunity to set up a very special surprise for each family.
Because of the trip's proximity to Christmas, members collected donated house warming gifts and necessities for each family including utensils for their first kitchens, towels for their first bathrooms, pillows and bedding for their new bedrooms, and toys for the children.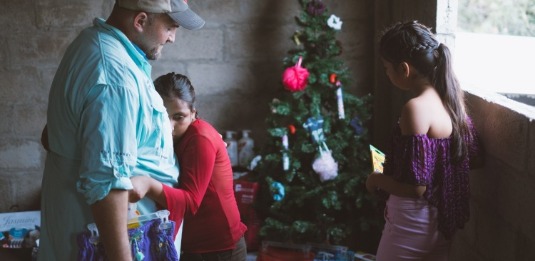 When the mothers entered their new homes and saw their trees stocked with gifts under the tree, there wasn't a dry eye in sight.
​Thanks to the generosity of our volunteers and donors, three families now have safety, security, and hope restored. With your help, we are able to continue changing lives by giving those who receive far too little attention the tools and resources they need to unlock possibilities.​
January 16, 2019