Mothers ran from their homes with their children into the open farm fields where potato, millet, wheat, and corn grew. Some women working in the fields became dizzy and fainted. Fathers collapsed on their 2-hour walks to Mainapokhari, the nearest city, where they were going to purchase rice. When the earth stopped shaking, they sprinted back as fast as possible with a myriad of scenarios going through their heads.
The scene was hazy as small smoke stacks pillowed upward from every part of Yarsa. It wasn't smoke from fires, though, it was dust clouds rising as nearly every home violently crashed down.
Gratefully, no one died in the village of Yarsa, but the 2015 earthquakes in Nepal claimed nearly 9,000 lives country-wide and destroyed more than 900,000 homes, tragically leaving millions without a roof over their heads.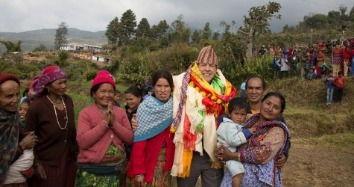 THE FIRST TO ARRIVE
Young Living Founder D. Gary Young travelled to Nepal on January 5, 2016, to see how the people in the country were fairing nearly one year later. The devastation he witnessed, inspired his next steps and our next steps as the Young Living Foundation.
When visiting the village of Yarsa, Nepal, he saw many victims that were still struggling to survive in painfully inadequate tin shelters. No other organization had helped them and there was no help on the horizon for these people. In much the same way Gary started the Young Living Academy, he noticed a need that was not being resolved and knew that we needed to act.
Immediately after his visit, Gary was resolute in his decision to rebuild every home in the village and to rebuild the primary school. "We would take charge of what we do and control the use of the donations ourselves," Gary wrote in a letter to Young Living members after returning from Nepal.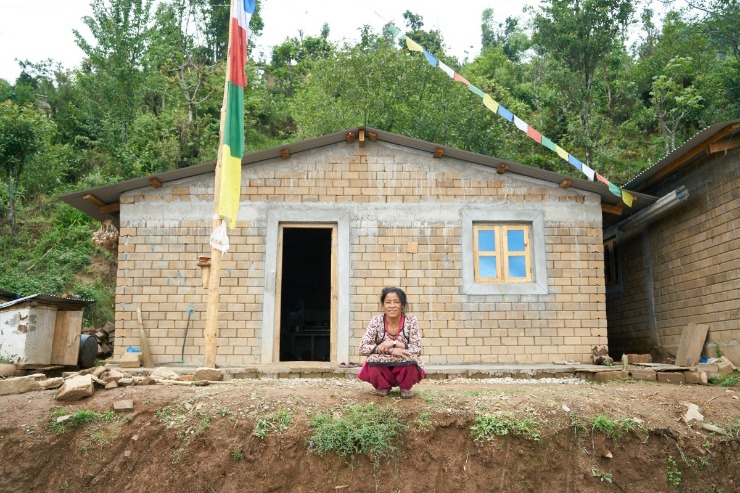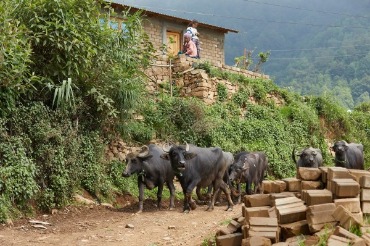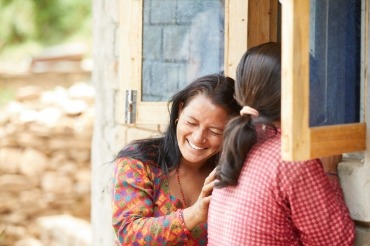 True community unity
In May 2018, Gary's vision for rebuilding the primary school and every home for more than 450 community members in Yarsa came true. All 100 homes in Yarsa are complete. We have also rebuilt the primary school, and it's called the Young Living Academy Nepal, Yarsa Primary School—the second Young Living Academy in the world!
Even though the first home was rebuilt and finished nearly two years ago, the people of Yarsa came together as a community and decided not to move into their new homes until every home was complete. They did that to show respect to each other. They were in it together, from beginning to end. So they continued surviving in their temporary and flimsy tin shelters until the final front door was installed on the final home.
Each new home is between 590 and 600 square feet. The people absolutely love the homes and are completely grateful for Gary and all the Young Living members who donated their time and resources to help rebuild the village. Nearly 50 Young Living members from eight countries went to Yarsa to help accelerate the building of the primary school and the homes.
"It was not only the people of Yarsa that helped build one another's home, but it was the people who donated and volunteered with the Young Living Foundation that helped build our homes," Ramji said. "If it wasn't for their contributions, we would not have our new house here today."
"If Gary and the Foundation had not come to help us we would still be living in our tin shelters," added Pasang Lamu Sherpa, who lives in a new home with her husband and two daughters. "We also may be forced to send our husbands aboard to work and then they would be sending money back little by little. Slowly we would be making our house, but it would take a long long time."
build back better
Rojina Sijapati, the Foundation's project coordinator in Nepal, said the Foundation's efforts in Nepal have impressed many of Nepal's dignitaries and government officials and we have earned much respect within the country.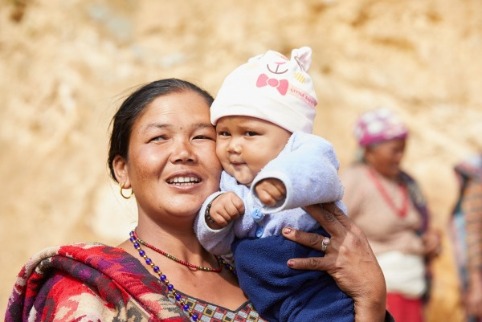 The Foundation also trained and employed many of the people in the village on how to build the earthquake resistant homes using Hydraform bricks that are made from a mixture of three simple ingredients: local soil, cement, and water. We are leaving the brick-making machine in Yarsa, with the hopes of helping the people create a sustainable industry within the community.
Knowing that their homes are now a source of protection has allowed the people of Yarsa to focus on building a new life. It has also strengthened the community. They have worked alongside each other and celebrated with each other as each home was rebuilt.
"For Gary, you were one of his highest priority," said Greg Larsen, the executive director of the Young Living Foundation, to the people who live in Yarsa at a community gathering on June 2, 2018. "He wanted to ensure that your homes and your school were built as quickly as possible. He wanted so much for all of you to feel of his love and feel the warmth of your new home and the strength of starting over as a community. Thank you for working alongside us these past two years."
Hector Nevarez, the Young Living Foundation's head contractor in Nepal, said the new homes provide the people of Yarsa with a chance to move forward. They provide hope for their future, especially for their children.
July 25, 2018