On february 16, 2019,
21 students graduated from the Young Living Academy in Chongón, Ecuador. We are so proud of each of our graduates for their tremendous accomplishment: making it to graduation in a community where the graduation rate is below 20 percent.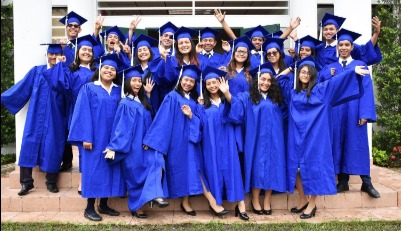 Many of our students look forward to careers as medical professionals, marketers, agronomists, businessmen and women. Many of these ambitious career goals require a degree or certification from a college, university, trade, or vocational school.
A higher education degree in Ecuador opens doors for opportunity to these graduates, allowing entry into the skilled labor workforce. Skilled labor generates a higher income for them to more readily meet the everyday needs of their family and in time, fuel the dreams of their own children.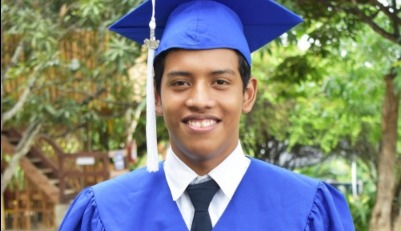 Kenneth Reyes is one such student pursuing a career in journalism at Laica University. After overcoming a congenital health problem, he met with Academy counselors to determine a career path that will allow him to reciprocate the support his family provided for him to receive a quality education. Luckily, Kenneth was offered a full-ride scholarship to fuel his dream.

Kenneth is fortunate to have received a scholarship to cover 100 percent of his costs of attending university because after celebrating our first graduating class in 2016, it became apparent that while our graduates are academically equipped for college, the socio-economic status of their families made it hard to come up with enough funds for their continued education.
For some students, the costs of college forced them to set aside their studies to return home, find a job, and help support their families' day-to-day needs.For other students, even though they received a partial scholarship from a university, they still could not afford the remaining amount. To see them work so hard to become the first in their family to graduate from high school and have their dreams cut short due to lack of funds meant we could do more to ensure the vision of them becoming Ecuador's future leaders.
This is why we have established the new D. Gary Young Leadership Endowment. Students who have been accepted into or are currently attending college, university, trade, or vocational school may apply for scholarship support. An award amount of up to 85 percent of higher education costs will be determined by several factors including GPA, extracurricular and leadership activities, community service, and their families financial situation.
This endowment fund is designed to provide a permanent source of income by keeping the original amount invested in the account and using the accrued income to provide Academy graduates with scholarships. This means that when you contribute to the endowment, you are truly giving a gift that keeps on giving in perpetuity.
Learn more and donate to these students' futures today at YoungLivingFoundation.org/LeadershipEndowment.
May 8, 2019