Since 2009, The D. Gary Young, Young Living Foundation has been committed to empowering individuals to achieve their potential and defy limitations by providing wellness and education opportunities to underserved communities across the world.
The work that has been accomplished, and that will continue to change lives as the Foundation grows, could not be achieved without the diligent and heartfelt dedication of generous Young Living members. After connecting with a few members who truly embody a spirit of service, we are proud to introduce you to the new Young Living Foundation Ambassador Program, and our 12 amazing ambassadors!
---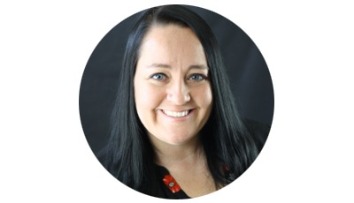 Melissa Askew
From: Eugene, OR
Favorite Young Living Essential Oils: Stress Away and Believe
Melissa and her husband, Nick, stay very busy with a thriving Young Living business which they started 3 years ago to help support their eight beautiful children, ranging from ages 4-15. "Little did I know that one little bottle of RC would completely change the trajectory of our lives!" tells Melissa. Becoming an ambassador for the Young Living Foundation is a dream come true for this awesome mom, because she is deeply passionate about serving, speaking, educating, and inspiring others into action. Melissa's passion comes from her experience with service trips.
"When you see 100 pennies literally save an eighteen-month old's life from malaria you will be moved to shout it from the roof tops! The change from rounding up your order is answering a mother's prayers on the other side of the globe. Your act of kindness is rescuing a young girl out of modern-day slavery in Cambodia. It's providing an education for a child in Ecuador who dreams of being a nurse. It's building schools and homes for families in Nepal that were leveled in a devastating earthquake. This is Gary's legacy." Melissa wants to share her passion with the world and invites any Young Living member to reach out who wants to band together to develop a fundraising campaign, collaborate on a Facebook Live, or speak at an event.
---
Heather & David DiFrancesco
From: Winkler, Manitoba Canada
Favorite Young Living Essential Oils: All of the oils in the Premium Starter Kit and Deep Relief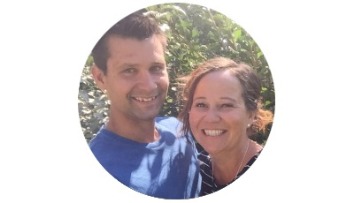 Heather and David have been married for 14 years, and when their family of five (twin 12-year-old's and an 8-year-old) isn't spending time in the hockey rink or lounging by the pool, they make it a statement to serve those who need it, explaining, "It's a ripple effect which only gets bigger and bigger when we give ourselves." Heather and David have both seen first-hand the way that the Foundation changes lives, Heather having served in Uganda and David in Nepal. "Seeing hope restored when practical needs are met is incredible. When you see the gratefulness of those people, it's indescribable."
The pair is committed to sharing their stories to inspire others to do more and see the needs of others. They hope to bring exposure to the Foundation's mission through everyday conversations to full-fledged rallies and events. They find that the stories shared at Convention have such a powerful impact, they hope to become vessels for those very stories to help others see the human, practical side of what the Foundation is doing.
---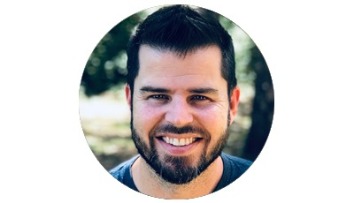 Chase Harrison
From: Mobile, AL
Favorite Young Living Essential Oils: Shutran, Peppermint, Idaho Blue Spruce, Digize, and Breathe Again
Chase's wife, Amber, turned him on to Young Living Essential Oils six years ago, and the rest is history. The couple has three wonderful children, and as a Deep South father, Chase has a "do everything" kind of personality, keeping busy with various activities, hobbies, and service opportunities. "My heart is honestly just to serve. Serving my wife, my family, and friends is something that is just a part of me," he says. Chase was among the first nine members to serve alongside the Foundation in Nepal in 2016, and that is where he fell in love with the Foundation, so much so that he jumped at the opportunity to revisit Nepal to serve again in March 2018 to finish the project his team had started.
Chase always has a blast at the annual Convention 5k run because it brings people together and gets them involved with the Foundation in a fun way. He is looking forward to utilizing his passion for speaking about his passion of the Young Living Foundation and is called to empower others to get not just financially involved through donations, but physically involved to serve where they feel led.
---
Ryan McManus
From: Staunton, VA
Favorite Young Living Essential Oils: Northern Lights Black Spruce, Frankincense, and Peppermint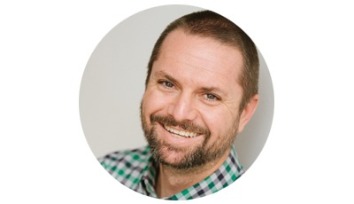 Ryan's passion for giving back shines through his servant heart. As a proud husband to his wife, Jenny, and father to three joyous children, Ryan believes that it is important to give back to families who are less fortunate. "I love helping serve those who are in need. The heart of the Foundation being an extension of Young Living really resonates with me," explains Ryan. He has been able to put his beliefs to work serving with the Foundation in Nepal rebuilding homes for those who lost them to the 2015 earthquakes, and in Houston, helping clean up after Hurricane Harvey.
Ryan always has a great time at the International Grand Conventions as he loves the energy of the Foundation fundraisers and seeing how Young Living members come together to create good in the world. He looks forward to sharing the vision and mission of the Foundation at events such as convention, and beyond!
---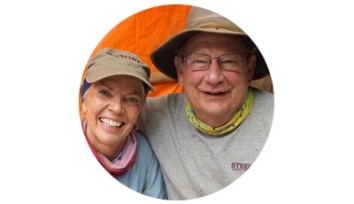 Janet & Phil Rutledge
From: Brighton, CO
Favorite Young Living Essential Oils: Peppermint, Lavender, Valor, Panaway, and Shutran
Janet and Phil make a perfect team as they build their Young Living business. This dynamic couple shares two incredible daughters, a passion for the outdoors, and a love for serving others and traveling. Their kind, servant hearts have brought them both to Yarsa, Nepal, to assist with rebuild efforts, Phil twice, and Janet three times.
The Rutledge's are passionate about working with the Foundation and look forward to taking on the challenge of empowering 1.25 million lives around the world by 2023 by sharing the work and goals of the Foundation to friends, family, and the Young Living community, encouraging everyone to round up. When not serving alongside the Young Living Foundation, Janet and Phil spend their time working with their local Refugee Program stating, "We have made some great friends with the families and are involved in their lives. They are our Denver 'family' and we even have 'grandchildren!'" The pair has also served in their church, on world missions, Denver Rescue, and weekly serving lunch to high school students. "We have been so blessed with good health and the ability to serve people and we receive so much more back from them. Our hearts are full!"
---
Nikia Schiffner
From: Moses Lake, WA
Favorite Young Living Essential Oil: Valor
Nikia balances her Young Living business with her home life as a loving wife and proud mother of three sweet kids whom she homeschools. When she is not enjoying time with her family or building her business, Nikia prides herself in giving back to others both internationally and in her own community in Washington. Nikia is excited to represent the Young Living Foundation as an ambassador because, "I simply love sharing about the amazing life-changing work our Foundation does all over the world. I wish everyone had the opportunity to see firsthand the impact of the Foundation, as well as have their heart undone."
Nikia has previously served alongside the Foundation internationally in Uganda in 2017. She loves the way the Foundation and partners work together seamlessly to ensure that others' most basic needs are met, and they are empowered to achieve their dreams. Locally, Nikia partners with a ministry that helps rescue and restore women trapped in prostitution. "It hurts your heart to see the bondage people live in. Knowing I can do a little, that could make a big difference in one life, is sweet." Nikia is always happy to share stories of her time in Uganda as well as the stories of individuals all over the world whose lives have been forever changed by the love and support of the Foundation.
---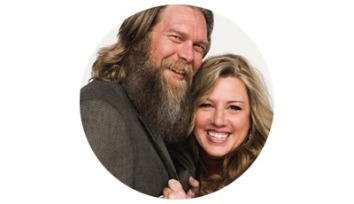 Brenda & Scott Schuler
From: Foley, MN
Favorite Young Living Essential Oils: Sacred Sandalwood, DiGize, Shutran, and Sacred Frankincense
Scott and Brenda have been together for 26 years, were both raised in Minnesota, enjoying the seasons and peace of the north woods, and are happily raising their three sons in the same serene environment. Brenda began the journey with Young Living in 1999, and in 2010, Scott made the decision to retire from a career as a Chiropractor to make their endeavors with Young Living a team effort, enabling them to empower others to achieve their dreams.
Scott and Brenda are proud to support Young Living because the company is committed to giving back to those in need by covering all operating costs for the Young Living Foundation. This generous act allows 100% of donations to help those in need. Their passion for the way that the Foundation is empowering lives inspired them to develop and manage the incredibly popular Ride for a Reason event! "When you are able to leverage what you love, in this case riding motorcycles, for the benefit of others is the ultimate sweet spot in life," Scott explains. The pair also enjoys serving their local community alongside other worthy causes such as Habitat for Humanity and Emerging Leaders, a men's group for empowering leaders.
---
Linda & Alan Simpson
From: Sydney, NSW
Favorite Young Living Essential Oils: Sacred Frankincense, Peppermint, Lemon, Christmas Spirit, White Angelica, Thieves, and Oregano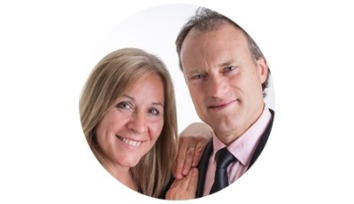 Linda and Alan have been with Young Living for some time now, and while they love the products and sharing oils with others, they also have huge giving hearts and are excited for the opportunity to put their principles of caring for others to work as ambassadors. "I am able to raise awareness of needs around us and what Young Living is doing on a practical level to change lives," explains Linda of her passion for the Foundation. When not sharing oils or their love of the Foundation with others, you may find Alan in his garage tinkering with electronics and designing equipment, and Linda cooking, throwing on her pottery wheel, or snapping photos of her favorite subjects.
Alan has joined the Young Living Foundation in Nepal and was moved by an experience while there. He was invited to a local home to share a meal, and recounts that despite not having much in terms of resources, the family welcomed him into their home to share pomegranates and oranges. Now, Alan and his wife Linda are working on making donations in Australia tax-free, have made films about Nepal and its people that were used for Oz Symposiums, and have sent tools to Nepal to assist with the ongoing construction projects. The pair is excited to share Alan's experience and knowledge and support for the Foundation in Australia, and beyond!
---
October 30, 2018