In the Philippines, hunger poses dangerous health and development consequences. The country currently ranks 69 out of 119 countries on the Global Hunger Index. While the Philippines has a strong food supply, many Filipinos continue to go hungry due to an inadequate intake of nutrients, and approximately 28 million people are unable to purchase food that meets basic nutritional requirements. Only one out of three households are food secure, meaning that only 33.3% of Filipino families had access to sufficient, safe, and nutritious food at all times according to a 2016 survey.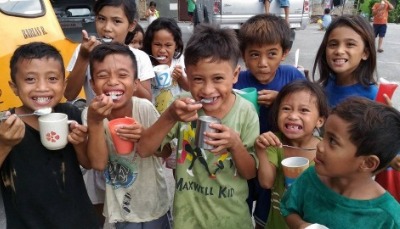 According to that same survey, of those affected by under-nutrition, children are the most vulnerable and the results of hunger and malnutrition can be devastating. Each day, 95 children in the Philippines die from malnutrition, and 27 of every 1,000 Filipino children do not live to see their fifth birthdays. In addition to childhood death, stunting (below minus two

standard deviations from median height for age) and wasting (below minus two standard deviations from median weight for age) can cause devastating and irreversible effects on children, especially when experienced before age two.
With the number of children going hungry and facing malnutrition, one of our partner farms knew there had to be something they could do to support children in their community through a collaboration with the Young Living Foundation.
Happy Pili Tree Farm
Young Living announced our partnership with the Happy Pili Tree Farm in 2018 where the farm owner, Rosalina Tan, was celebrated for her dedication to sustainable, ethical, and conscientious harvesting methods. The Happy Pili Tree Farm is Young Living's main supplier of
Elemi essential oil. The farm protects natural resources and helps ensure long-term viability of high-quality Elemi essential oil. The farm has also built an on-site distillery which provides more job opportunities in the community.
In addition to sustainable farming methods, the Happy Pili team is also actively involved in the community and seeks opportunities to support residents through various initiatives. When the partnership was formed, the farm team informed us that the Alejandro T. Manaog Elementary School down the road from the farm was in dire need of support to help end hunger in a school in which only in 33 of 144 students can afford lunch through the assistance of limited government grants and to restore infrastructure damaged after weathering numerous devastating typhoons.
Alejandro T. Manaog Elementary School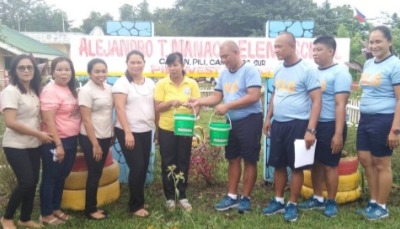 After learning about the need at Alejandro T. Manaog Elementary, we immediately began the process of analyzing how we could help in the most impactful way. Since January, the Foundation has been funding improvements and additions to the school to heighten educational opportunities.

A sustainable School Garden
Because fewer than 25 percent of students at Alejandro T. Manaog receive the government assistance they need to enjoy lunch at school, many children are going hungry during the school day. A child without nutritious fuel may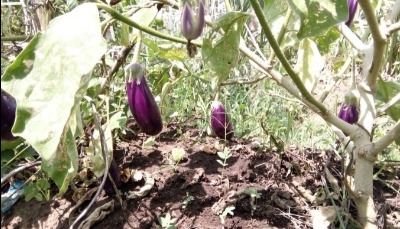 struggle to focus and excel in their studies. For this reason, the Happy Pili Tree Farm suggested the implementation of a garden on school grounds which would supply enough food to feed all of the children a nutritious meal, every single day.
In January, farm employees began planting and harvesting fast-growing crops which were immediately turned into delicious and nutritious meals for the students. Since then, staff have been adding to the school garden, planting crops that offset the growing seasons of other crops so the school has a continuous supply of lunch ingredients.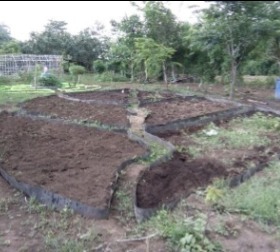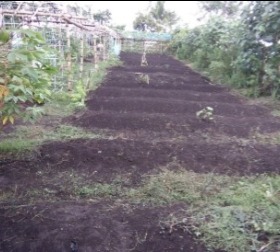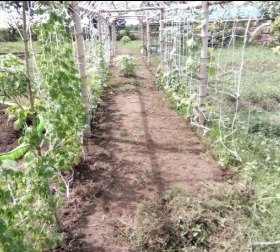 In addition to fresh produce, the school now has a duck coop with 15 ducks that provide protein-rich eggs to balance meals, and soon a tilapia pond will be added to provide an alternative source of sustainable protein.
Students also get involved with the cultivation of crops for their meals, planting seeds, helping with harvesting, and tending to the garden as a part of their curriculum. This means that the garden is not just supplying food, but also valuable education on the importance of nutrition and how to sustain healthy habits through farming.
Improving Infrastructure
The elementary school conducted all classes in three outdoor classrooms, which in times of inclement weather or extreme heat created distractions for the students. Renovations are taking place to reinforce the structural integrity
of these outdoor classrooms and improve sanitization.
In addition to restoration efforts, two new enclosed classrooms will be completed by October 24. These two large indoor classrooms will provide enough space for all students to receive education uninterrupted, even in cases of extreme weather, and will also allow the school to increase capacity and accept 40 new students! We are looking forward to watching how our hands and feet on the ground progress with this project.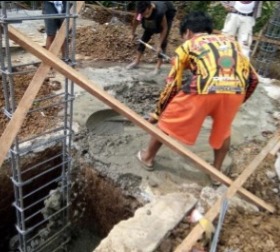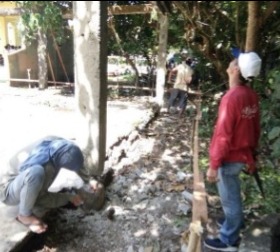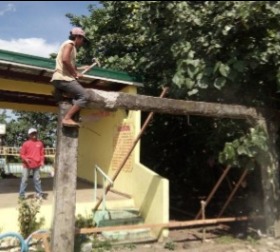 To support projects such as this one at the Alejandro T. Manaog Elementary School, become a Freedom Builder by committing to donate as little as $1 USD each month to the General Donations fund. 100 percent of every dollar donated goes directly to the partnerships and projects that are empowering individuals and creating long-term, sustainable change for communities in need.
September 12, 2019