Now Accepting 2017 Nominations
Nominate a fellow Young Living member by May 9!
Know someone who lives for service? The D. Gary Young, Young Living Foundation is pleased to provide you the opportunity to nominate a fellow Young Living member for the 2017 Spirit of the Foundation Award! Selected recipients will be honored in Salt Lake City, Utah, at the 2017 International Grand Convention.
This award acknowledges members who embody and exemplify the spirit and ideals of the Young Living Foundation and our mission to empower the underserved. If you know someone who lifts others through extraordinary acts of kindness and goes the extra mile to empower the underserved to defy limitations, help us recognize that hard work and nominate him or her today! All nominations must be submitted by Tuesday, May 9.
Nominations Guidelines
Before sending in your nomination, please note that the selection committee will consider the following factors: (1) degree of impact and influence the nominee has had on people who belong to an underserved community, in terms of number of people impacted and depth of impact, and (2) degree of personal sacrifice, service, and investment.
If you have any questions, please contact us at info@younglivingfoundation.org.
2016 Spirit of the Foundation Award
Congratulations to last year's winners and honorable mentions!
WINNERS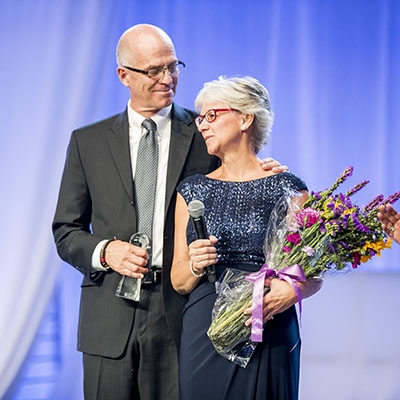 Linny and Dwight Saunders, Senior Stars
Linny and Dwight Saunders have dedicated their lives to giving a voice to the voiceless. In 2011, they founded the International Voice of the Orphan, which feeds 16,000 vulnerable children.
HONORABLE MENTIONS
Crystal and Verick Burchfield, Crown Diamonds
Crystal and Verick are abolitionists. They work tirelessly to put an end to human trafficking and were instrumental in connecting the Young Living Foundation with anti-trafficking partner Hope for Justice.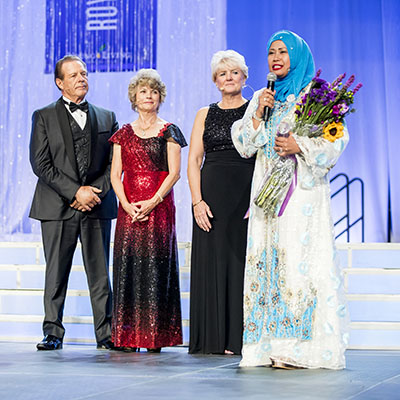 Yonie Bonawi, Diamond
Yonie Bonawi passionately serves special needs children in Malaysia, Singapore, and Indonesia. These children and their families are often neglected and fall through the cracks of society.