Louisiana Flood Relief Recap
Leaders in Louisiana Quickly Rallied Together to Deliver Over 900 Care Packages to Impacted Young Living Members Right After the Flood
The rain kept falling and falling. As much as 2 feet of rain fell in 48 hours in central Louisiana, and for Young Living members Jessica Cotton and Jeanette Bernard, it all happened too fast.
"It was horrible," said Jeanette, who's in the midst of rebuilding her house in Breaux Bridge, Louisiana. "We woke up at 7 a.m., and by 11 a.m. the water started coming into the house."
"We really didn't have any warning," said Jessica, who lives in Denham Springs, Louisiana, one of the hardest-hit flood areas. "When we woke up Saturday, we thought we were in the clear. Our yard was mainly dry and drained, and we thought we would only get a little bit of water. In an hour and half my house went from drained to about 5 feet of water. Then the water rose another 2 feet in 20 minutes. It's a good thing we got out when we did."
Jessica and her family didn't even take the time to put on shoes as they quickly loaded up their SUV barefoot and carried their dogs and cats through a river of water in their house. Jessica felt blessed that her SUV was able to make it through the flood water and to safety. If they had taken another 30 or 40 minutes, they would have needed a boat to get out, which was how Young Living member Phyllis Reynolds and her husband were rescued. Here's some images they took inside their home while they waited on the roof for a boat to take them to safety.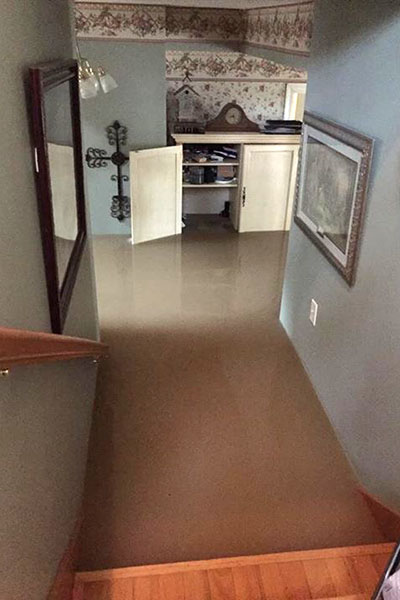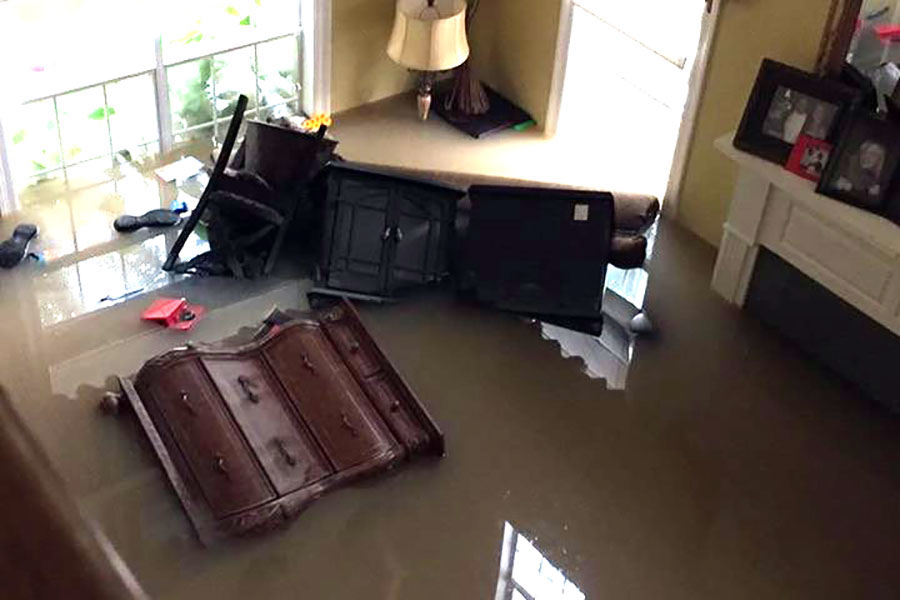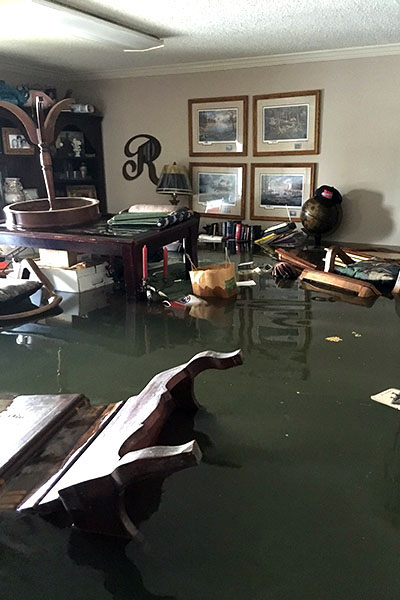 ONCE IN 1,000 YEARS
This is the story of so many in Louisiana. August 11–14, streets throughout Louisiana turned into rivers, and rivers engulfed homes and then entire neighborhoods.
According to the National Weather Service, the amount of precipitation that dropped in parts of Louisiana's most disastrous flooding areas happens once every 1,000 years, with flooding in other areas classified as 500-year and 100-year events.
The intense flood waters had not even receded when Young Living member leaders rallied together to identify impacted members and began to coordinate relief efforts.
TWO TONS OF EINKORN FLOUR, 900 CARE PACKAGES
The D. Gary Young, Young Living Foundation responded by sending truckloads of Young Living products to the leaders immediately after the flooding started. We sent key essential oils, Slique® and Wolfberry Crisp™ Bars, diffusers, NingXia Red®, Bon Voyage Kits, and various other items to let the people of Louisiana know that we support them and they are not alone. The leaders on the ground rallied together to assemble the products into care packages that were then delivered within days after the flood to more than 900 Young Living members who just lost their homes and belongings. With those care packages, the Foundation, as well as many individual leaders and members, provided cleaning supplies to help members begin the cleanup and recovery process.
The home of Diamond leader Jessica Gianelloni of Madisonville, Louisiana, became a main hub where hundreds of care packages were assembled. Below is an image of buckets of care packages in her garage ready for delivery.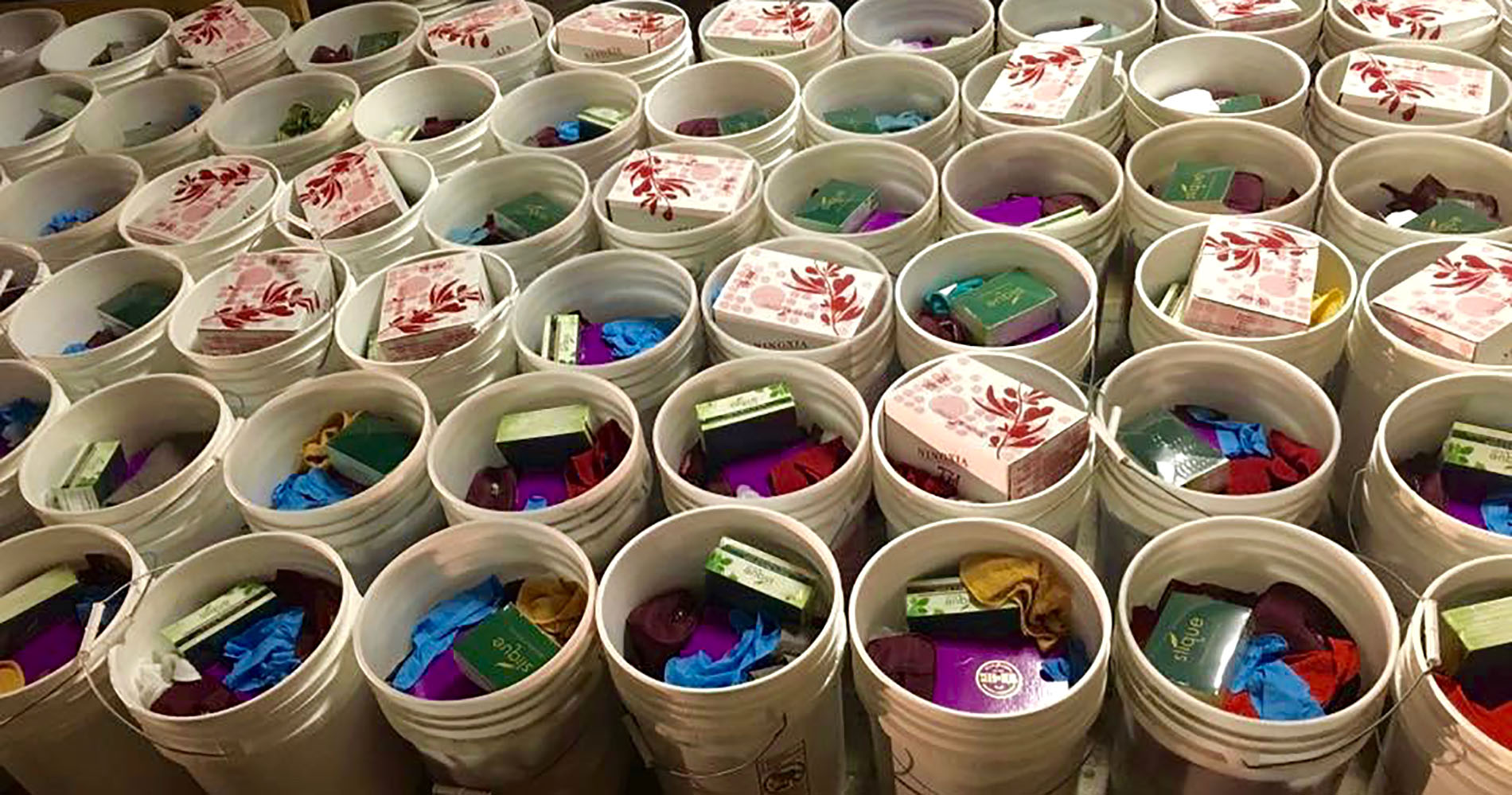 "You could tell that the care packages meant more to people than just the products they received," Jessica said. "Their world just crumbled, and we showed up to say 'We are here for you.' Everyone could not believe how the products we provided helped them in practical ways and that this company would go out of the way to show them that we cared."
The Foundation also shipped 2 tons of Gary's True Grit™ Einkorn Flour to Louisiana, along with salt, butter, yeast, and loaf pans. Diamond leaders and their teams worked hard and got local bakeries involved to bake einkorn bread, cookies, and biscuits. The baked goods were then delivered to about 17 shelters housing thousands of displaced families.
DELIVERING HOPE AND JOY
For the members who delivered the care packages, they could feel the lingering shock in the trembling voices and sad eyes of the victims. On one hand, they still couldn't believe or grasp what just happened. On the other hand, they were not sure what to do next. Plus, there is a deep pain that comes from having to look at your cherished memories strewn along the roadside while gutting your house and tearing down walls.
"It's heartbreaking. I can't think of another way or word to describe it," Jeanette said. "To see everything you worked for gone is just completely heartbreaking."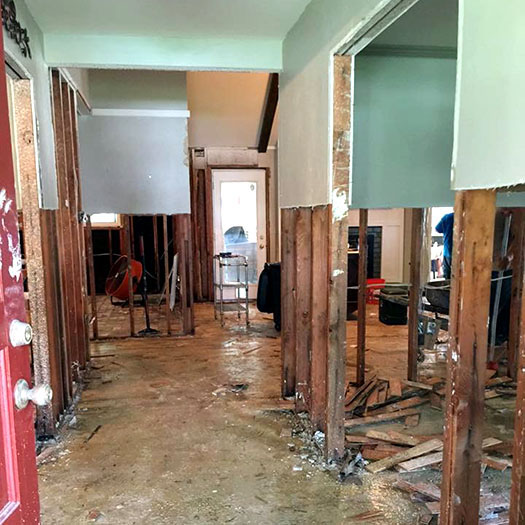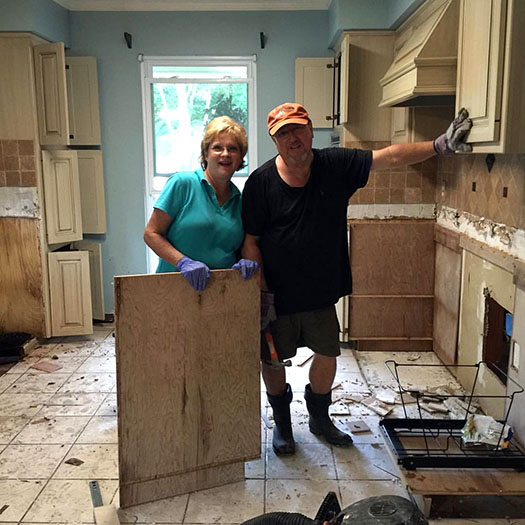 Silver leader Kallie Kerne helped hand out several care packages to impacted members, and she was overcome with the amount of hugs she got that day and the tragic stories of so many people as they try to move forward.
"We met with people who truly had no idea where they were going to go next," said Kallie, who lives in Broussard, Louisiana. "Some were even contemplating just walking away from what they had spent their entire lives working for—family homes that they had owned for 30 to 40 years. We walked up to one lady who was standing near a pile of what was left of everything that she owned. There were small slivers of wood, sheet rock, and fabric on the ground. She told me through tears that she was happy it was gone because she couldn't bear to look outside and see a pile as tall as her of nearly everything she owned."
While these members have a way to go to recover from the devastation, they were very appreciative of the care packages. Many were brought to tears knowing that the Young Living family and the Young Living Foundation cared for and stood by them.
"Never in a million years did we expect the amazing gifts that were delivered to us," Winona and Gary Smith wrote in a letter sent to the Foundation. "We are so appreciative for this wonderful surprise. While this is a stressful time for us, it is people like you who keep us encouraged and on track."
Executive member Kim McDonnel and her husband, David, also volunteered to help assemble and deliver care packages. They were honored to serve and bring a small amount of joy into the lives of members who were impacted.
"We were truly blessed to give because Young Living gave us the opportunity to do so," said Kim, who lives in Covington, Louisiana.
"WE'RE DOING A GOOD THING, HUH, MOM?"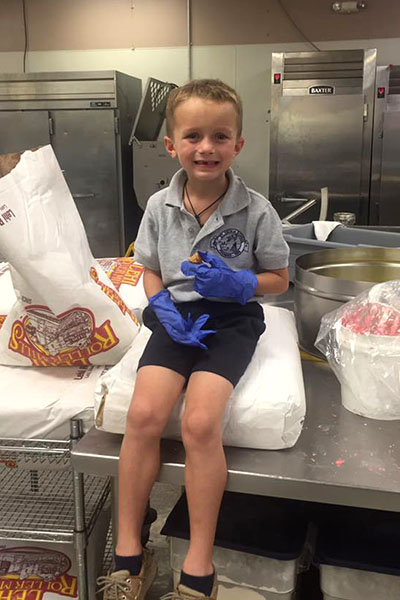 Kallie also got her 5-year-old son Reed involved. They spent time together helping at a local bakery to make and bag einkorn biscuits. Kallie said Reed enjoyed helping out and loved the opportunity to give back. He was so proud and kept asking Kallie, "We're doing a good thing, huh, Mom?" Tearfully, Kallie responded, "Yes, buddy. We are."
Thank you to all of the members who responded and went the extra mile to serve others and assemble and deliver the care packages quickly. Our hearts are touched by your incredible examples. Through your efforts, we truly witnessed the power of the Young Living family and demonstrated that the heart of this company is centered on helping people.
To the members who lost their homes, your resilience and strength have also touched our hearts. Please know that we continue to stand by you.